The "Birch Leaf" Project Won First Place at the All-Russian Competition "New Idea"
Rosneft's unique project for the construction of the Birch Leaf well took first place in the All-Russian competition "New Idea-2020". The project was implemented by specialists from Taas-Yuryakh Neftegazodobycha and Tyumen Oil Research Center.
Comprehensive development of scientific and technological potential is one of the key elements of the Rosneft-2022 Strategy. The company pays special attention to innovation and the use of advanced digital approaches, identifying technological leadership as a key factor in competitiveness in the oil market.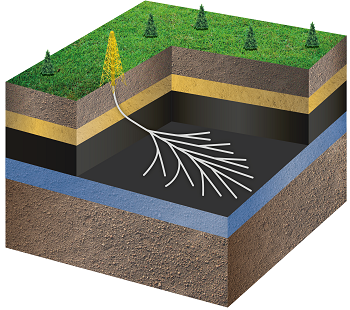 The Birch Leaf well is named so for its resemblance to a tree leaf. This world's first 15-bore multilateral horizontal well was drilled in the Srednebotuobinskoye field. With a total length of 12,792 m, the well has the longest penetration through the reservoir in Russia – 10,310 meters. The well start-up parameters amounted to more than 400 tons of oil per day with the pressure drawdown limited to less than 5 atmospheres, which is an absolute record. Unlike multilateral wells drilled using the Fishbone technology, the innovative well design has 7 main sidetracks, each of which is divided into two more.
The unique technical solution has increased the profitability of the field development. The productivity of Birch Leaf is 10 times higher than that of a conventional horizontal well; the economic effect for the Company is estimated at an additional RUB 1.583 billion. In the future, the technology will be improved due to the complication of the class of horizontally branched wells.