The Share of Recycled Water in Rosneft Production Reached 94% in 2020
By the end of 2020, Rosneft increased the share of recycled and reused water in production activities to 94%. This indicator has remained above 90% for the past seven years.
Rosneft has been a member of the UN Global Compact for more than 10 years, and in 2018 it confirmed its commitment to 17 UN Sustainable Development Goals, among which are Goals No. 6 "Clean Water and Sanitation" and No. 12 "Responsible Consumption and Production". The company has also developed an Environmental Development Concept that includes approaches to the rational use of water resources. Within the framework of this document, Rosneft has set an ambitious goal for itself – by 2030, to reduce the consumption of "fresh" * water by 10% by increasing its reuse and increasing the efficiency of treatment.
In its management of water resources, Rosneft applies the principles of a circular economy. In 2020, the Company continued to implement measures to reduce water consumption and water intake from natural sources, reducing the volume of water withdrawn by 7%.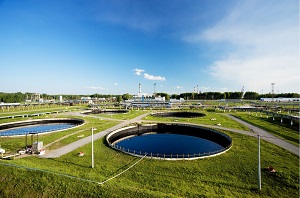 Rosneft is consistently improving its corporate water management processes by applying modern technologies for the treatment and protection of water bodies. In addition, the Company contributes to the achievement of the national development goals of the Russian Federation until 2030 in terms of the rehabilitation of water bodies. As part of a trilateral agreement with the Russian Ministry of Natural Resources and Rosprirodnadzor, Rosneft commissioned facilities at the Novokuibyshevsk Refinery, Novokuibyshevsk Oils and Additives Plant and Rospan International JSC to improve the efficiency of water resources management and minimize water intake.
On the territory of Bashkortostan, the largest in Eurasia complex of biological treatment facilities "Bashneft-Ufaneftekhim" with a capacity of 84 thousand cubic meters was commissioned and is being successfully operated. m per day using membrane bioreactor technology. The facilities process industrial, rainfall and domestic wastewater from the Bashneft refinery, as well as 66 enterprises in the region.
The treatment facilities made it possible to significantly improve the quality of wastewater treatment, as well as to increase the use of treated water in technological processes, which led to a 2.5-fold reduction in its intake from water bodies. Since its launch, the treatment facilities of Bashneft-Ufaneftekhim have treated 65 million m3 of wastewater.
For more information on the Company's approach to water conservation, please follow the link .
* "Fresh" water – fresh water taken from surface and ground water bodies, including supplied by third parties under water supply contracts. It is used for both production and household and other needs of the Company.