Rosneft and CNPC Held a Meeting of the Joint Coordinating Committee
Rosneft and China National Petroleum Corporation (CNPC) held the third meeting of the Joint Coordinating Committee via videoconference.
The agreement on the establishment of the Joint Coordinating Committee of Rosneft and CNPC was signed on May 15, 2017 during the official visit of Russian President Vladimir Putin to China.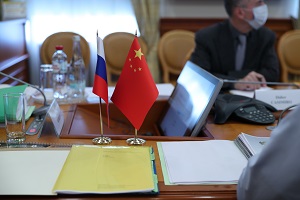 The committee was created to develop cooperation between companies in a number of strategic areas, including interaction in the exploration and development of oil and gas fields, oil refining and petrochemicals, trade in oil and oil products, scientific and technical research, training, as well as the implementation of promising projects in the field of supply and oil services.
During the meeting, the members of the committee summed up the results of the work done, discussed the prospects for cooperation for the coming year, and assessed the possibilities of implementing new joint projects.
Also during the meeting, the Russian side congratulated the co-head of the CCM from the Chinese side Huang Yongzhang on his appointment as deputy general director of CNPC.
The next CCM meeting is scheduled for 2021
Reference:
Since 2013, Rosneft and CNPC have signed a 25-year contract for the supply of 325 million tons of oil to the Middle Kingdom. In December 2016, the companies entered into an additional agreement to increase oil supplies to China in transit through Kazakhstan.
Within the framework of the IV Eastern Economic Forum in Vladivostok, Rosneft and the Chinese National Oil and Gas Corporation signed an Agreement on Cooperation in the field of exploration and production in the Russian Federation. Under the terms of the agreement, CNPC will be able to acquire minority stakes in large oil and gas projects of Rosneft, located, inter alia, in Eastern and Western Siberia.
The Chinese-Russian Eastern Petrochemical Company (a joint venture between Rosneft and CNPC) in Tianjin is implementing a project for the construction and subsequent operation of an oil refining and petrochemical complex in the Nangan industrial zone in the PRC.